Return to Headlines
School District of Manatee County Press Release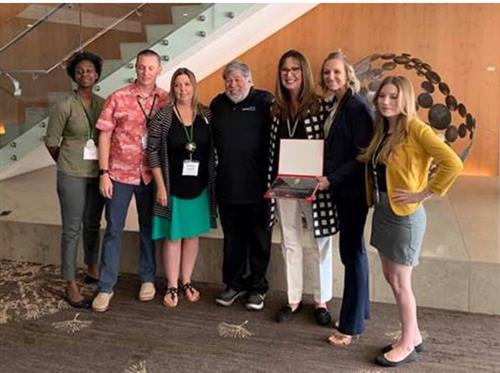 Superintendent Cynthia Saunders, Principal Kaththea Johnson and Palm View teachers join Apple co-founder Steve Wozniak at DesTechAZ.
Superintendent Cynthia Saunders, along with a team of educators from Palm View Elementary School in Palmetto, recently attended what's billed as "Arizona's Signature Tech Event". They were invited by Apple co-founder Steve Wozniak to be personally inducted as a Woz Pathway School during the DesTechAZ conference from October 14-17, 2019 in Phoenix.
Palm View School, which currently offers grades K-6, was the first Woz Pathway school in the nation. The elementary school offers personalized learning programs to educate and train students for their successful future. Pathway Schools are an elite group of schools that exemplify teaching and learning designed to help students explore their future in the high-demand tech economy.
Superintendent Saunders, Principal Kaththea Johnson and four Palm View teachers participated in interactive sessions during the conference which featured animation, coding, cybersecurity, drone piloting and mobile development.
"As Florida continues its efforts to adapt education to the growing needs of our workforce, Manatee County is already leading the way," said Superintendent Cynthia Saunders. "We are so grateful to Steve Wozniak and Woz ED for allowing us to experience the cutting-edge technology that's available to our students in order to make them career ready."
Attendees from Manatee County also listened to discussions about technology and education led by Apple co-founder Steve Wozniak, Arizona Governor Doug Ducey, NASA Chief Scientist James Green and founder Paul Teutul Sr. of Orange County Choppers.
Palm View K-6 School
Google Maps
6025 Bayshore Road
Palmetto, FL 34221
941-723-4812
The School District of Manatee County makes every effort to ensure that published information is accurate and current. However, the District makes no claims, promises, or guarantees about the absolute accuracy, completeness, or adequacy of the contents of this website, and expressly disclaims liability for errors and omissions in the content of this website. Any person or entity that relies on any information obtained from this system does so at his or her own risk. Under Florida law, e-mail addresses are public records. If you do not want your e-mail address released in response to a public records request, do not send electronic mail regarding official business to the District or any of its employees. Instead, contact the District or individual employee by phone or in writing.