Return to Headlines
Palmetto High athletic director advances from the wrestling mat to the Hall of Fame
Bryan Wilkes is tackling a new school year at Palmetto High School, and the athletic director is already off to a great start.
On August 27th, Coach Wilkes received the Lifetime Service Award from the Florida Chapter of the National Wrestling Hall of Fame.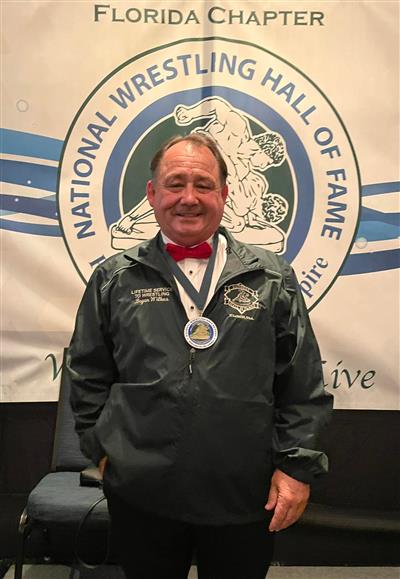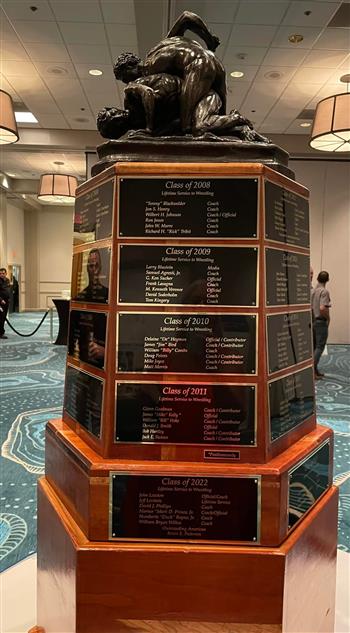 Six new inductees received a medal, a "Lifetime Service" green jacket and their names on a coveted trophy.
Coach Wilkes' biggest fans, nearly 50 of them, attended the 2022 Honors Weekend ceremony, held in Lake Buena Vista near Orlando.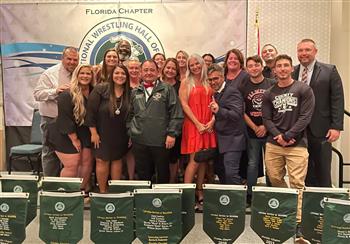 Who was in his corner? Palmetto High Principal Monica DeLesline, along with her assistant principals, colleagues, friends and family.
Wilkes says they not only give him support – but they also give him love, and he's happy to be part of the team.
He was born and raised in Manatee County, and one of his nicknames, "Twinkie", goes back to his days as a student at Manatee Elementary School.
Wilkes attended (formerly) Harllee Middle and graduated from Southeast High School, where he was a two-time district champion wrestler and two-time state qualifier.
After wrestling for Carson-Newman College, he went into the United States Marine Corps and trained to be an aviation crew chief on helicopters, also becoming a member of the All-Marine Corps wrestling team.
A love for the sport took him to Citrus County, to begin his high school coaching career in 1986.
Wilkes' journey brought him back to his alma mater in 1991, where he was the Seminoles' assistant to Hall of Fame Coach Bob Thomas.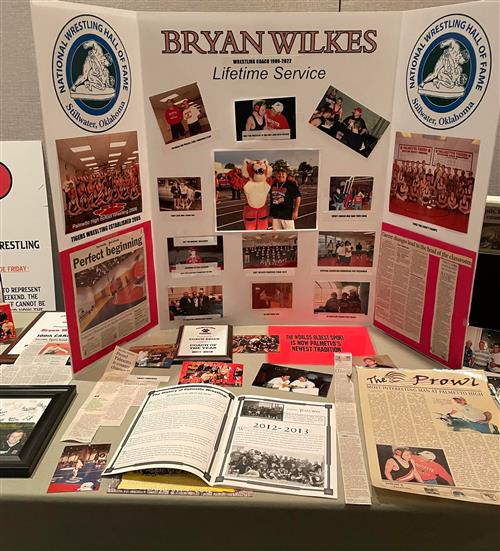 In 2005, Wilkes started the wrestling program at Palmetto High School and led the Tigers to victory at five Manatee County championships and nearly 200 dual meets before becoming PHS athletic director in 2020.
The role of AD isn't keeping him off the mat, however. He still serves as a referee.
Coach Wilkes says this honor isn't just about him, and it wouldn't be possible without his family, including all of those wrestlers, parents and staff who've loved him throughout the years.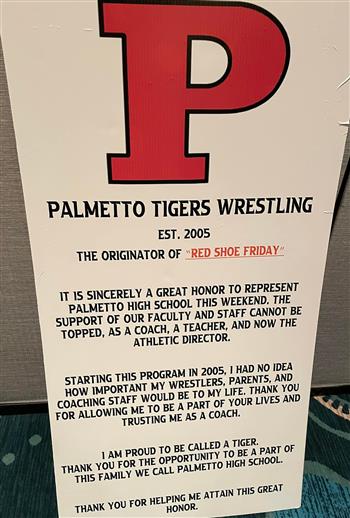 "I am proud to be a Tiger. Thank you for helping me attain this great honor," he wrote to display on a sign at his Hall of Fame ceremony.