Return to Headlines
McNeal Elementary is building TRUST with help from a parent's mural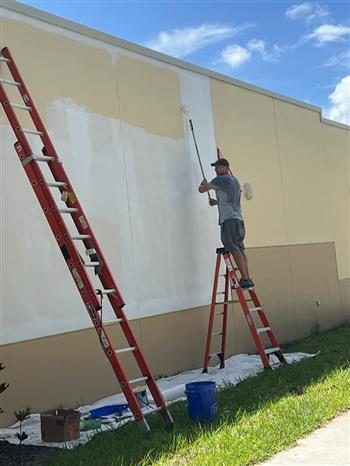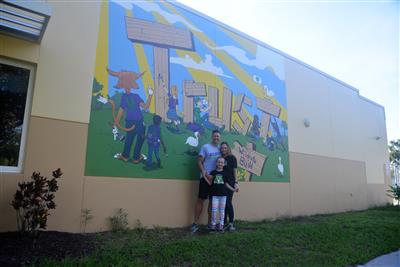 Alex Benson earned his fine arts degree from Indiana University.
He's done freelance graphic design work, but hasn't been commissioned to paint a mural.
That's until a phone call he received this summer from McNeal Elementary School's Student Advisory Council (SAC) co-chair, David Havasi.
The SAC was brainstorming practical ideas for a campus beautification project, and it was Havasi who knew of the second-grade parent with artistic abilities.
Within 24 hours of the phone call, there was a design lying on Principal Sheila Waid's desk.
She said Benson's design blew them away.
The school mantra this year is "Wildcat's Building Trust," and the sunny wall mural depicts young people building letters which spell out T-R-U-S-T.
Benson says he's happy to support the school and wanted to make his daughter proud.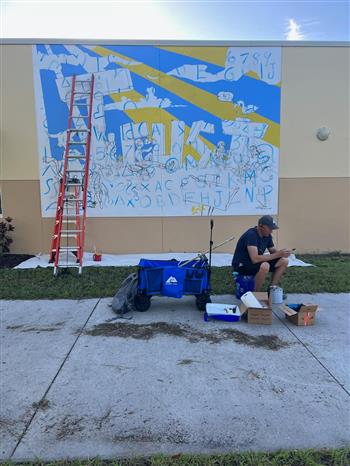 "I couldn't turn down the opportunity to do something so visual," said Benson. "Something she would see every day as she walked into school was too much of a reward."
Principal Waid is grateful because she knows all who walk past the mural will know that McNeal is growing and building trust throughout their community.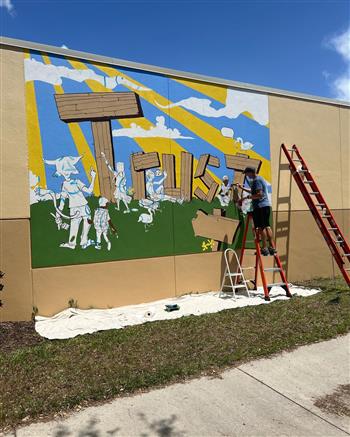 The best part? The mural was a surprise for families, students and staff who hadn't returned to campus since May.
After one week of paint, sweat and help from his daughter, the final reveal came during McNeal's Open House on August 8th and word quickly spread to Facebook.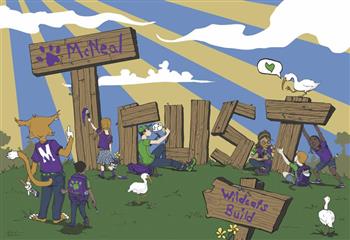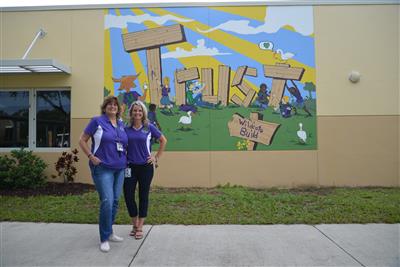 (Pictured L-to-R: Principal Sheila Waid and Assistant Principal Ashley Terry)
"You did an amazing job making the school even more wonderful," one parent wrote.
"Incredible!" wrote David Havasi. "His talent is extraordinary."
To think, it all started with an idea – and "a parent, who knew of a parent".
Great job, Wildcats!
School District of Manatee County
Google Maps
215 Manatee Avenue West
Bradenton, FL 34205
(941) 708-8770
The School District of Manatee County makes every effort to ensure that published information is accurate and current. However, the District makes no claims, promises, or guarantees about the absolute accuracy, completeness, or adequacy of the contents of this website, and expressly disclaims liability for errors and omissions in the content of this website. Any person or entity that relies on any information obtained from this system does so at his or her own risk. Under Florida law, e-mail addresses are public records. If you do not want your e-mail address released in response to a public records request, do not send electronic mail regarding official business to the District or any of its employees. Instead, contact the District or individual employee by phone or in writing.