Return to Headlines
Students from Buffalo Creek Middle host event to honor first responders
Every year in Palmetto, 2,977 small American flags are placed near Buffalo Creek Middle School's sign in honor of Patriot Day, and those who lost their lives on September 11th. Click here to view drone video of flag display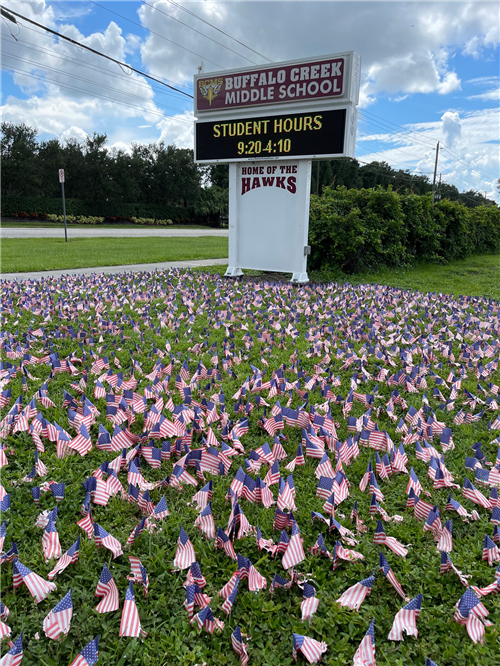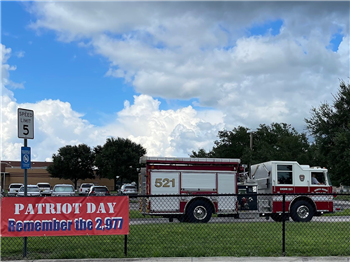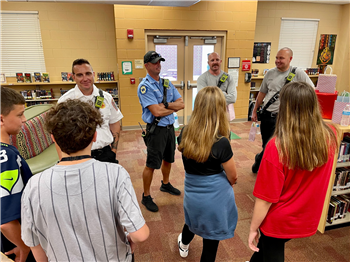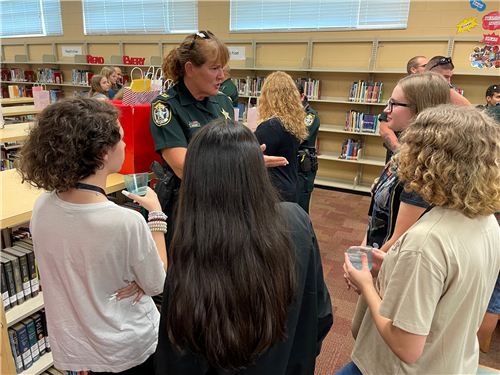 On Monday, a North River District fire truck drove past the flags before carefully maneuvering turns in the school's winding driveway.
The crew of engine 521 wasn't responding to an emergency, but instead, a meaningful event to honor local heroes.
Inside the media center, Joseph Baker's 8th grade students gathered in anticipation while gripping red, white and blue-striped gift bags containing goodies and homemade "Thank You" cards.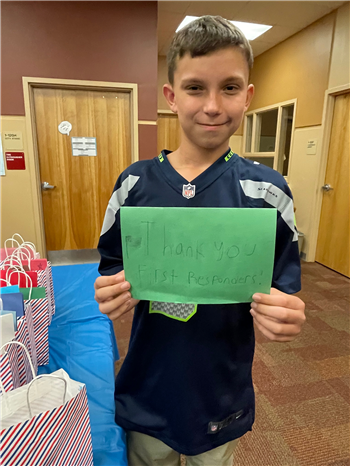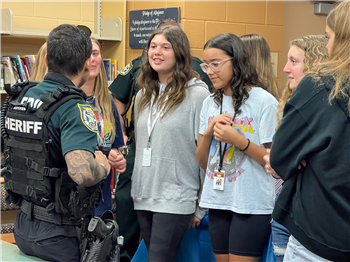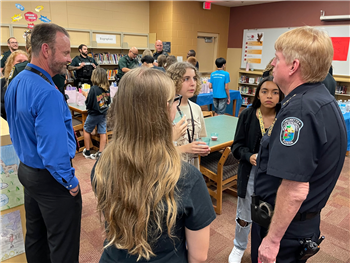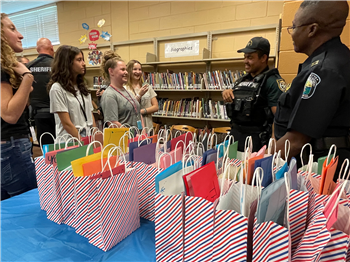 These students were born well after the attacks in 2001, but they're learning about the tragic events in their Global Perspectives class.
Pre-AICE Global Perspectives is part of the Cambridge Assessment International Education program offered at Buffalo Creek Middle School.
The class is meant to develop a student's ability to think critically about a range of global issues, where there is always more than one point of view.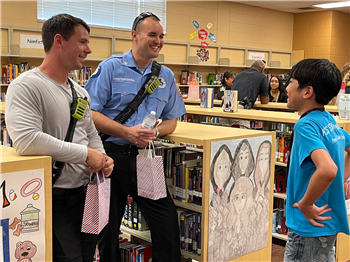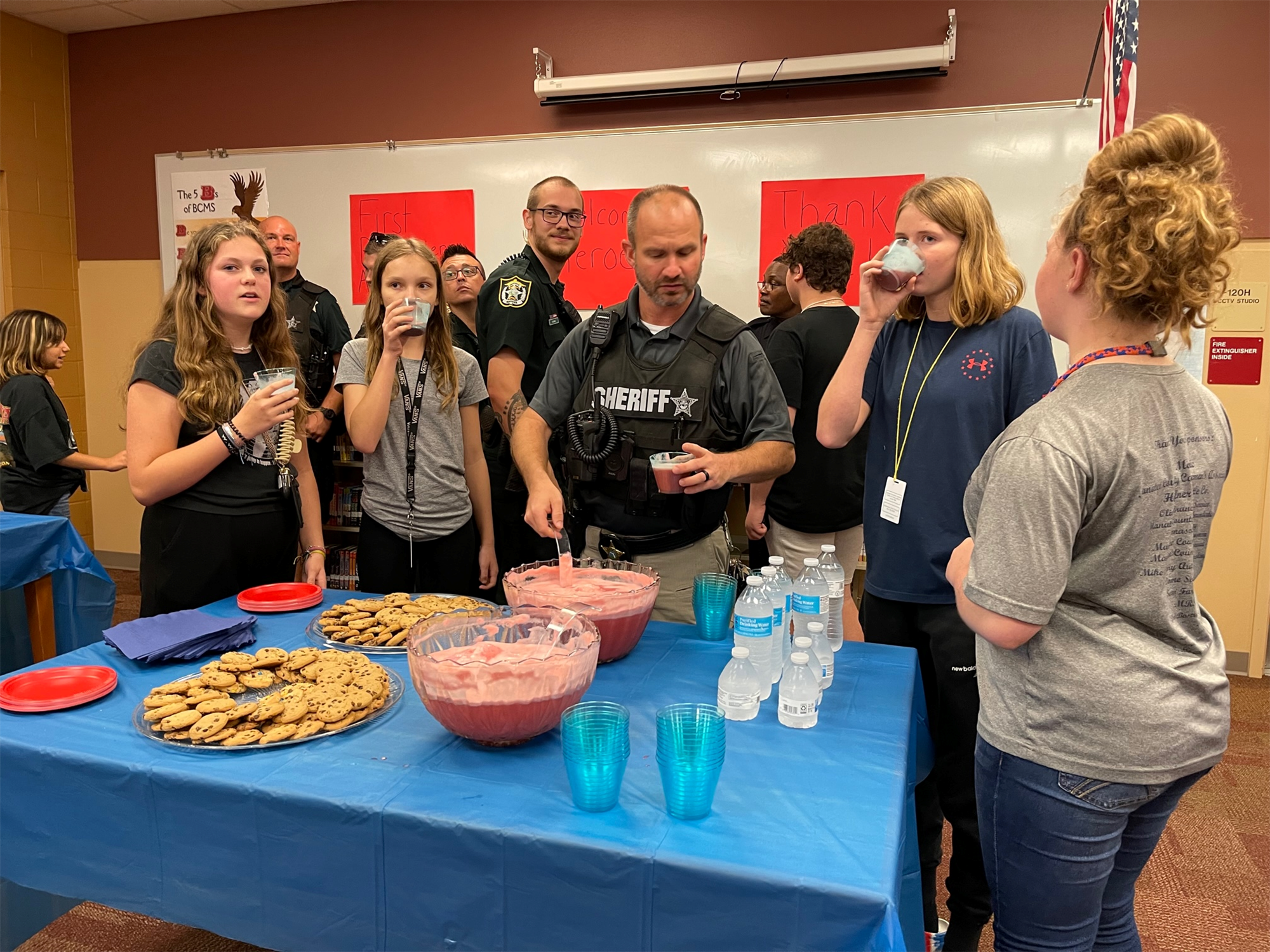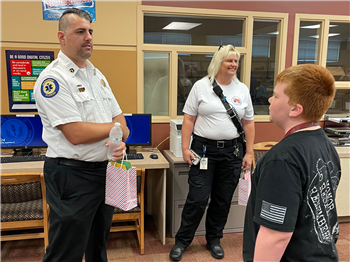 Back at school, the room is filled with law enforcement officers from multiple agencies, firefighters and paramedics.
One student was heard asking, "What's the most memorable event from your time serving in law enforcement?"
"It was the day I was hired," said Manatee County Sheriff's Office Captain Sandra McIver, who has been serving the community for more than 30 years.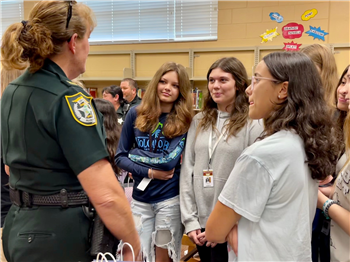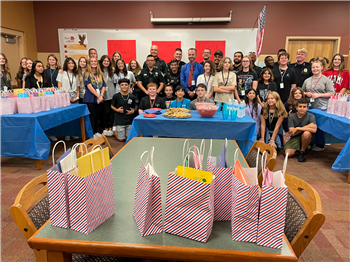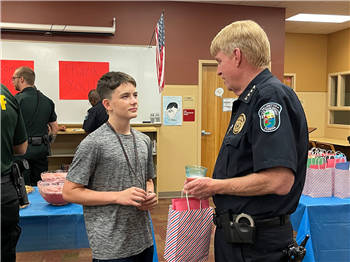 Another student finishes up a conversation with Palmetto Police Chief Scott Tyler.
The opportunity to speak with law enforcement officers face-to-face is "awesome", the student said, "way better than reading a book about them."
After learning the top speed of an ambulance, the length of a police captain's day, and enjoying refreshments together, the students gathered with their new friends for photos.

They say it was a rewarding experience to learn how first responders face challenges and save lives in their own community – after learning about the heroes of 9/11.
The sentiment was similar for the first responders, who enjoy visiting schools and getting to know what's important to students.
If you have good news to share about what's taking place inside Manatee County schools, please email GoodNews@ManateeSchools.net.
School District of Manatee County
Google Maps
215 Manatee Avenue West
Bradenton, FL 34205
(941) 708-8770
The School District of Manatee County makes every effort to ensure that published information is accurate and current. However, the District makes no claims, promises, or guarantees about the absolute accuracy, completeness, or adequacy of the contents of this website, and expressly disclaims liability for errors and omissions in the content of this website. Any person or entity that relies on any information obtained from this system does so at his or her own risk. Under Florida law, e-mail addresses are public records. If you do not want your e-mail address released in response to a public records request, do not send electronic mail regarding official business to the District or any of its employees. Instead, contact the District or individual employee by phone or in writing.