Return to Headlines
Teachers, students react to experience at VEX Robotics World Championship
The 2023 VEX Robotics World Championship, presented by Northrop Grumman Foundation and the REC Foundation, brought more than 3,000 teams from 36 nations together to celebrate STEM excellence.
Heralded as THE LARGEST robotics tournament in the world, it was an exciting and amazing event for 46 students and their advisors from Manatee County.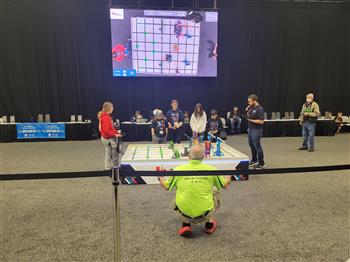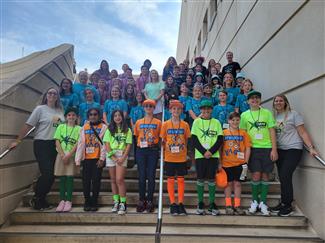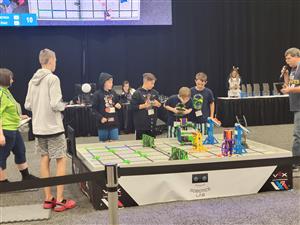 The School District of Manatee County (SDMC) has a unique and competitive STEM program in K-12 and our students and teachers have earned a well-deserved reputation for being Superstars when it comes to STEM competitions and education.
SDMC was pleased to send a total of 13 teams from McNeal, Mills, Willis and Witt Elementary Schools who qualified earlier in the school year to go to the VEX IQ World Championships in Dallas, Texas, held at the Kay Bailey Hutchinson Convention Center from May 1 – 4, 2023.
The teams qualified for the VEX North/Central Regional Championship and brought their A game. Additionally, the students submitted their carefully crafted notes about the engineering design and robot building process. All teams performed admirably and collaborated with students from all over the world to form alliances for the event.
The preparation for this prestigious competition compelled students to utilize various strategies and skills and provided elementary and middle school students with exciting, open-ended robotics challenges to enhance their science, technology, engineering, and mathematics (STEM) skills through hands-on, student-centered learning.
Student-led teams at the VEX World Competition competed at different levels, ranging from elementary schools to the collegiate level. Each competition level had a game task that tested the students' ability to design, code, drive and strategize the use of the robot with teamwork with another randomly selected team who used their robot at the same time on the same course.
After ten matches, the average score determined the top teams. This year's VEX IQ game was called "Slapshot".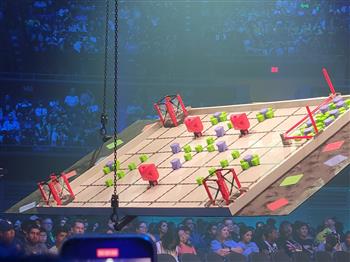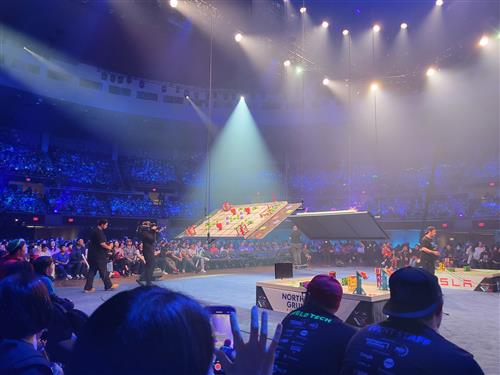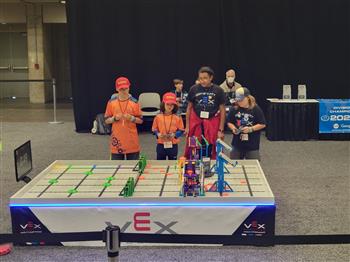 The VEX IQ Game Challenge "Slapshot" was played on a 6' x 8' rectangular field and the object of the game was to design and build a robot to score as many points as possible, by releasing orange disks from different types of dispensers and whizzing them into the goal zone. Students can score via driving challenges (remote controlled robot), programming challenge (coding the robot to perform this task), and teamwork challenges, where two teams form an alliance and add up their scores.
It was amazing to see how the 3rd, 4th and 5th graders handled the world competition and how excited they were to participate. Their amazing coaches were Thomas Brugos, Hanna Cuervo, Jennifer Hubley, Lynne Johnston, Jennifer Poplaski, Dana Townson, and Marcia Vogt, who dedicated many hours and resources to leading their students to success.
This was a once in a lifetime opportunity for the students of Manatee County, one experience they will never forget!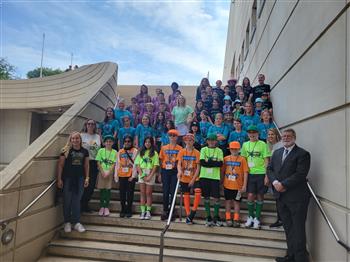 The Manatee delegation included the following educators: Thomas Brugos (Witt), Dana Townson (McNeal), Jennifer Poplaski (McNeal), Lynne Johnston (Mills), Marcia Vogt (Mills), Hanna Cuervo (Willis), Jennifer Hubley (Willis), Dr. Paul Gansemer, Executive Director Adult, Career and Technical Education, & Jennifer McManis, STEM Coordinator.
In the words of the teachers...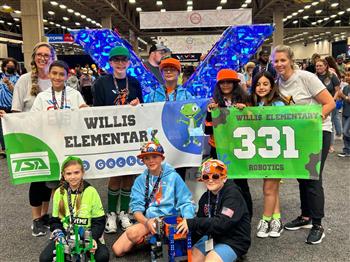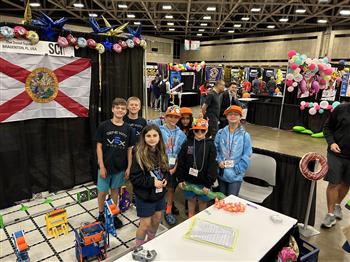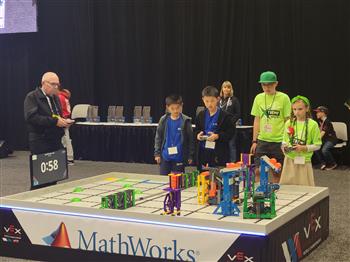 Hanna Cuervo – Willis Elementary School:
Willis Elementary teams, Kreative Kaos and Xtreme Geckos, excelled in their divisions. Both teams led the way for Manatee County teams in the Science and Engineering divisions. Kreative Kaos missed the division finals by only 1.5 points!
We couldn't be prouder of our Geckos! They collaborated and problem-solved with teams from all over the world. Students persevered through matches and supported their alliance teams. At times, our teams were learning from more experienced teams from all over the world.
At other times, our teams were doing the teaching and helping teams with broken robots and electronic malfunctions.
This was an experience of a lifetime for our students. We are extremely grateful for this opportunity and for all the support we have received to make this trip a possibility and a success!
Team members included: Sophie S., Ozan P., Kai B., Aubrey S., Zachary D., Landon C., Zoe B. and Nino D.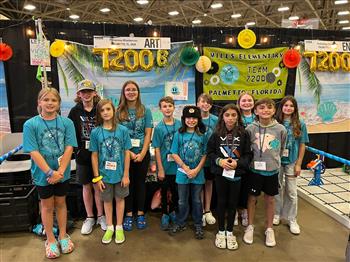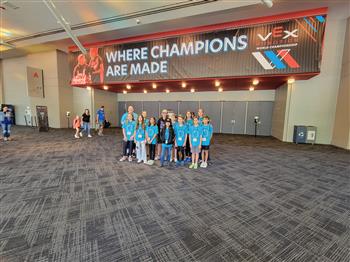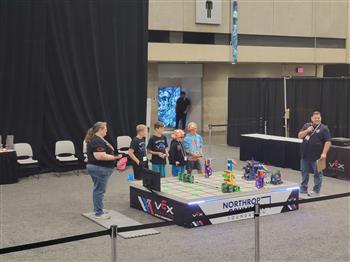 Lynne Johnston – Mills Elementary School:
Mills Elementary sent 3 teams to VEX Worlds. Team 7200A – The Technology Tornadoez, Team 7200B – The Poisonous Blueberries, and Team 7200D – The Flaming Hot Lions. Students enjoyed collaborating with teams from around the world. Team 7200D missed the division finals by just three places, ranking 23rd out of 74 teams in their division! All three teams worked hard and made memories that will last a lifetime.
Team members included: Ty C., Evanell D., Connor N., Lorelei T., Colton H., Brooke L., Rebecca S., Alara T., Zack L., Gage M. and Brett S.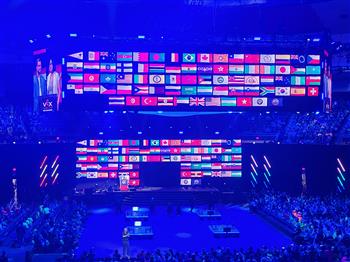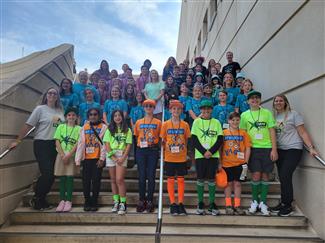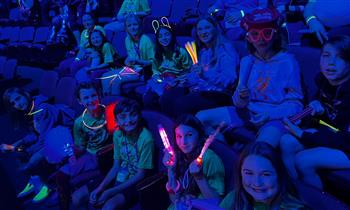 Thomas Brugos – Witt Elementary School:
When talking to my team, they had a few highlights…
The competition part was intense! They absolutely loved seeing and driving with all the different kinds of robots. Especially the shooting bots that scored more than 200 points! So cool to watch.
The experience of traveling to Dallas, Texas, together as friends, and as a team. Just qualifying for the World Championship was incredible for them.
Meeting all of the different kids from all over the country and all over the world. They also enjoyed driving robots with kids that spoke different languages and using Google Translate to understand them.
Finally, they LOVED walking around visiting all of the different pits in the venue. Especially from international countries. Also, all of the souvenir trinkets the kids exchanged with each other, such as buttons and bracelets. They are still smiling and wearing them!
Team members included: Emma D., Noah P., Luciano G., Liam B., Nina Y., Ellee T., Charlotte H., Fiona B., Brooklynn C., Olovia A., Talula P., Anna G., Sofia L., Eddy T., Connor W., Yohmaris T., Makinley K. and Bryce H. Teams: Da French Fries, The Robloxians, Exotic Animals, The Donut Squad and The Misfits.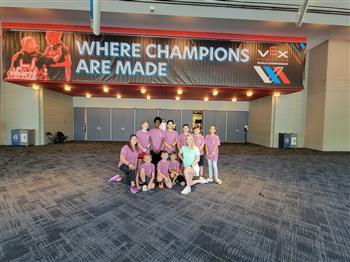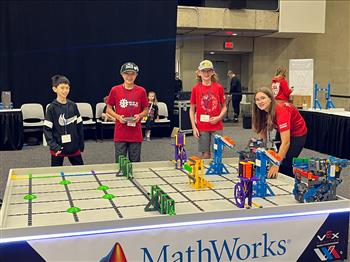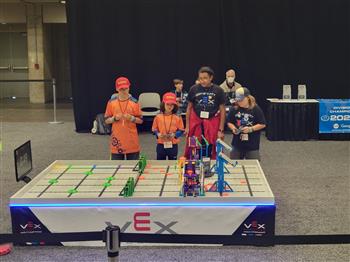 Dana Townson – McNeal Elementary School:
VEX Worlds 2023 was almost unimaginable.
As a teacher, I always have high hopes and expectations for my students. The consideration of being invited to the VEX Worlds never entered my mind!
Being that McNeal Elementary is a Lighthouse school for Leader in Me, our goal is to empower students to lead their own learning. Our VEX team is comprised of leaders who do just that. VEX members have to synergize and use each other's strengths to be successful.
I am so grateful that McNeal students were able to participate and earn this unforgettable experience. Through robotics clubs and events like VEX Worlds, I know we are building a strong foundation here in Manatee County for our future leaders.
Team members included: Parker P., Noble P., Okhan O., Luna L., Symian P., Sawyer R., Penn R., Noah J., and Hayden L. Teams: Slap 'N' Slide, Multicolor Madness and Flaming Cheetos.
All 13 participating elementary VEX IQ teams were invited to compete at VEX Worlds. The School District of Manatee County has 33 elementary schools and VEX robotics is available in all of them.
Special thanks to Jennifer McManis, STEM Coordinator, for providing this Good News.