Upcoming Events
Friday

October 28, 2022

November 2, 2022

November 11, 2022

November 21, 2022

November 22, 2022

November 23, 2022

November 24, 2022

November 25, 2022

December 14, 2022

December 15, 2022

December 16, 2022

December 19, 2022

December 20, 2022

December 21, 2022

December 22, 2022

December 23, 2022

December 26, 2022

December 27, 2022

December 28, 2022

December 29, 2022

December 30, 2022

January 2, 2023

January 3, 2023

January 4, 2023

January 5, 2023

January 6, 2023

January 9, 2023

January 10, 2023

January 16, 2023

February 20, 2023

March 1, 2023

March 10, 2023

March 13, 2023

March 14, 2023

March 15, 2023

March 16, 2023

March 17, 2023

April 7, 2023

May 19, 2023

May 22, 2023

May 23, 2023

May 24, 2023

May 25, 2023

May 26, 2023

May 29, 2023

May 30, 2023

June 5, 2023
View Calendar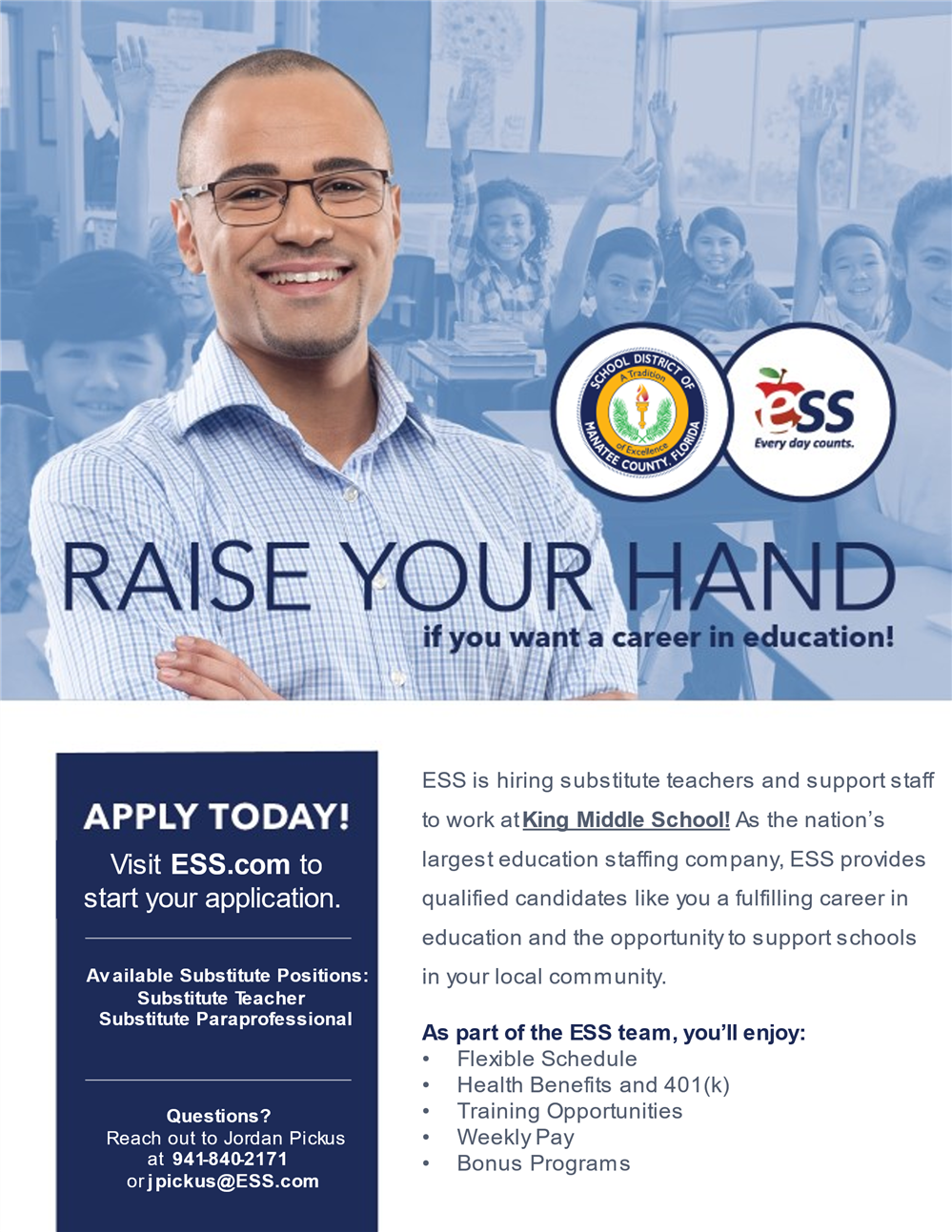 Announcements
Join Martha B. King Middle School as a substitute teacher or support staff
Career and Technical Education (CTE) programs are open to all eligible high school and middle students in the district and are committed to a policy of nondiscrimination in employment and educational opportunity. No person shall be discriminated against or harassed in any educational program, services or activities, or employment conditions or practices on the basis of race, color, national origin, religion, sex, age, disability, marital status or sexual orientation. Admission is open to students with limited English proficiency. Limited English proficiency is not a barrier to participation in CTE programs.
Welcome to King Middle School
Our Mission:
The mission of Martha B. King Middle School is to prepare the King community for the challenges and demands of the 21st Century by facilitating the acquisition of the knowledge, skills and experiences necessary to reach individual potential.

Our Vision:
Every Student ♦ Every Period ♦ Every Day
District Hot Topics
Parents may access and review state-mandated instructional materials, and have a right to exempt their student from reproductive health education.

These resources may assist you in navigating difficult conversations with your children.

The Florida Department of Education has released a web-based fiscal transparency tool intended to help taxpayers evaluate the financial efficiency of a school district with other similarly situated school districts.