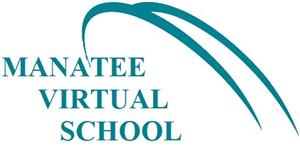 Manatee Virtual School (MVS)
The Manatee Virtual School (MVS) experience is quite different from typical K-12 education (School, Teacher, Classroom, Schedules etc.), so it is extremely important that you read ALL of the information provided on these pages before making a decision about becoming a virtual student.

Manatee Virtual School English/Spanish PDF

Manatee Virtual School FAQ English/Spanish PDF

STEP 1: Read the Manatee Virtual School PDF and Manatee School FAQ PDF (hyperlinks above)

STEP 2: Register Your Student

Email Tami Hocker:

hockert@manateeschools.net

In the subject line, please indicate your child's name, grade and current school (if currently enrolled in Manatee County).

Dr. Hocker will respond by email and send you the enrollment forms if your student is eligible.

STEP 3: The parent/guardian returns the completed registration form and page 6 signature document from Handbook.

If you are new to Manatee County, you also need:

A Birth Certificate

Proof of Residency (Electric bill)

Physical and Shot Documentation (within year of current date)

Transcripts from former school(s)

ENROLLMENT WINDOW for Full Time Manatee Virtual - Fall 2022: Friday April 8 to Friday July 8th 2022. Please call 941-751-6550 ext 43069 for enrollment information. All applications MUST be submitted by Friday, July 8th 2022.