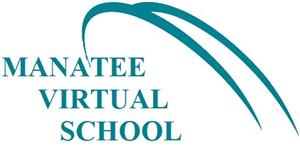 Manatee Virtual School (MVS)
The Manatee Virtual School (MVS) experience is quite different from typical K-12 education (School, Teacher, Classroom, Schedules etc.), so it is extremely important that you read ALL of the information provided on these pages before making a decision about becoming a virtual student.

Manatee Virtual School English/Spanish PDF

Manatee Virtual School FAQ English/Spanish PDF

STEP 1: Read the Manatee Virtual School PDF and Manatee School FAQ PDF (hyperlinks above)

STEP 2: Review your students course and test history to assess their eligibility for Full Time programs.

STEP 2: Register Your Student

STEP 3: The parent/guardian returns the completed District Enrollment Form and page 6 signature document from Handbook.

If you are new to Manatee County, you also need:

A Birth Certificate

Proof of Residency (Electric bill)

Physical and Shot Documentation (within year of current date)

Transcripts from former school(s)

ENROLLMENT WINDOW for Full Time Manatee Virtual - Fall 2023: Monday, April 23 to Friday, July 24 2023. Please email mvs@manateeschools.net for enrollment information this FALL and have your student reviewed for eligibility. All applications for the Fall of MUST be submitted by 3PM on Friday, July 24st 2023.