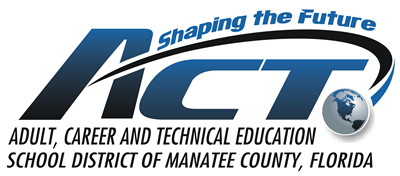 The Adult, Career & Technical Education Department (ACT) is the umbrella for all of the adult, career and technical education programs in our elementary, middle, and high schools as well as Manatee Technical College (MTC). We encompass Career Pathways, Career Academies, Smaller Learning Communities, Exceptional Student Education Transition Services, On-The-Job Training (OJT), and Extended Day Education Programs (EDEP).

Through our programs, we link the world of education with the world of work. Our 400+ teachers and staff provide leadership, support, and resources to prepare students with the necessary technical skills, student leadership, career focus, and academic excellence needed to succeed in both careers and post-secondary education while meeting and exceeding local workforce needs.

Our students, teachers, and staff have gained a local, regional, national, and international reputation as one of the best career and technical education programs in the nation.
Contact Us
Professional Support Center
2501 63rd Avenue East
Bradenton, FL 34203
941-751-6550

Executive Director of Adult, Career and Technical Education (ACT) and Manatee Technical College (MTC)
Dr. Paul Gansemer
941-751-6550 ext. 43206

Assistant Director Career and Technical Education
Kelli Kennedy
941-751-6550 ext. 43054

Administrative Secretary
Suzette Ventrone
941-751-6550 ext. 43253

Fiscal Specialist
Terry Braza
941-751-6550 ext. 43058

Career Pathways Coordinator
Carol Lewis
941-751-6550 ext. 43006

Clerical Assistant
Kelly Mohammedelamien
941-751-6550 ext. 43059

Extended Day Enrichment Program Administrator
Trish Dezso
941-751-6550 ext. 43004

Extended Day Enrichment Program Administrator
Elizabeth Thompson
941-751-6550 ext. 43049

Extended Day Enrichment Program Administrator
Holli Vigna
941-751-6550 ext. 43296